Rapper Aggro Santos 'raped woman and girl'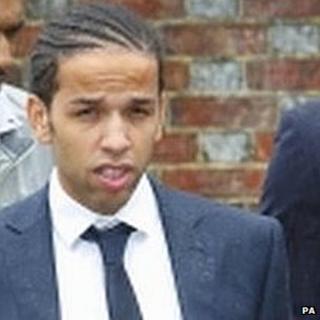 Rapper and former I'm A Celebrity contestant Aggro Santos raped two women after gigs in different parts of the country, a court has been told.
Mr Santos is accused of forcing a woman in her 20s to have sex with him after a show in Yeovil in September 2010.
In 2011 he raped a girl of 16 while his friend forced her to perform a sex act, Chichester Crown Court was told.
Mr Santos, 24, denies two counts of rape and Tyrelle Ritchie, 22, denies serious sexual assault.
Isobel Ascherson, prosecuting, told the court the alleged offences happened in hotel rooms after Santos had performed at events.
Consensual sex
She said Mr Santos, of Tooting, south London, met two fans in the car park after a gig to mark the opening of Club Soho in Yeovil.
One woman had consensual sex with Mr Santos's manager, she said. Her friend went to another room with the rapper.
The court was told Mr Santos then had sex with the other woman, despite her trying to resist.
Miss Ascherson said the woman reported the attack only after reading that Mr Santos had been arrested in connection with a rape in Chichester the following May.
Alcohol consumed
The court heard that Mr Santos had invited a group of girls to a party at the hotel where he was staying after performing at a university summer ball in Chichester.
The prosecution said the 16-year-old girl had consensual sex with Mr Santos in his hotel bathroom while her older sister had consensual sex with Mr Ritchie in another room.
But the teenager said Mr Santos then forced her to have sex a second time while Mr Ritchie, of Vauxhall, south London, forced her to perform a sex act, Miss Ascherson said.
She added that the girls had drunk "considerable" amounts of alcohol and that what happened on the two nights was "confused".
She said Mr Santos had denied any sexual contact with the woman in Yeovil and that the 16-year-old had initiated the sexual activity with him and Mr Ritchie in Chichester.
The trial continues.