Rapper Aggro Santos 'raped woman after being mocked'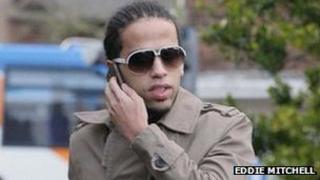 The rapper and former I'm a Celebrity contestant Aggro Santos raped a woman in a hotel room after she mocked him, a court has heard.
Mr Santos, 24, is accused of forcing the woman to have sex with him after a show in Yeovil in September 2010.
He is also accused of raping a 16-year-old girl in Chichester in 2011.
Mr Santos denies two counts of rape and his friend Tyrelle Ritchie, 22, one count of serious sexual assault during the trial at Chichester Crown Court.
The woman, who is in her 20s, told the court the Brazilian-born rapper, of Bickersteth Road, Tooting, south London, raped her after she and a friend saw him perform at Club Soho in Yeovil on 25 September.
After the gig they went back to his hotel, the Yeovil Court, where the woman went on to have consensual sex with his manager in an adjacent room.
'You're sick'
The jury heard, that while they were in bed Mr Santos entered the room, but was told to leave by his manager after the woman complained.
She said after they had finished, his manager got dressed to have a cigarette and she returned to Mr Santos's room.
At first the atmosphere was jokey, she said, but when she refused to perform a sex act on him and mocked his music, looks and appeal to women, he became angry.
"I pushed him away and he was getting really annoyed," she said.
"He got angry and because I was disgusted my guard did go up and I did mock him."
The woman said that, as she sat on the edge of the bed, he pushed her back by her shoulders before raping her in an attack which lasted seconds.
She said: "I knew what was coming, I knew what he was going to do. I was hitting out... telling him, 'you're sick'."
'Jesus blessed me'
Afterwards, the woman said she got up and made for the door.
"I remember feeling just empty and drained," she said.
"I was screaming, 'let me out'. He kept responding, 'I'm blessed, Jesus blessed me'."
The jury heard that Mr Santos's manager then opened the door and pushed the musician up against the wall.
As he asked for an explanation about what had happened Mr Santos is said to have admitted raping the woman.
A taxi was called and the next day the woman said she blamed herself for the attack.
She only reported it after she read reports that Mr Santos had been arrested for rape following the alleged incident in Chichester.
The trial continues.