Calls to stop PIB discharges at sea after bird deaths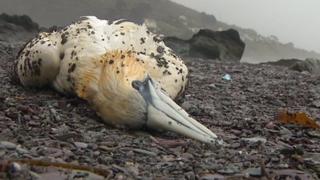 Wildlife groups are lobbying the government to press for international action to stop chemicals being discharged which affect seabirds.
Hundreds of birds have been left covered in polyisobutene (PIB) in two incidents on the south coast this year.
The RSPB, RSPCA and local wildlife trusts said they wanted the Department for Transport (DfT) to call for change.
The DfT said a number of countries were investigating such discharges and the residues that wash up on beaches.
Last week, the RSPB said more than 1,000 birds had been affected in Dorset, Devon and Cornwall since 10 April, while hundreds were found covered in the substance, mainly in Dorset, in February.
The main substance believed to have responsible for the deaths is PIB, which is used as a lubricating additive in oils to improve performance. Scientists say it does not easily break up in the sea.
'Send a message'
It is legal to discharge PIB when ships wash out their tanks at sea under certain conditions, but wildlife groups want a total ban on releasing it.
Discharges by chemical tankers are being investigated, transport minister Stephen Hammond said last week.
He said the inquiry's results would be passed to the International Maritime Organisation (IMO).
The DfT said: "A number of European countries, including the UK, are currently investigating the discharge of high viscosity products by chemical tankers, and the resulting residues washing up on beaches."
Wildlife minister Richard Benyon said: "This is a tragedy for seabirds and I have seen first-hand the immense work being undertaken to clean birds and return them to the wild.
"A Maritime and Coastguard Agency investigation is ongoing.
"The immediate priority is to identify the vessel responsible and send a clear message that any illegal activity will not be tolerated."