Illegal rave sites: When ravers are your neighbours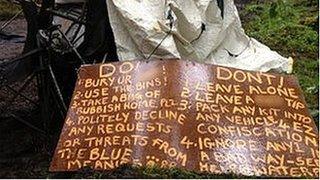 Noisy neighbours are something many of us have to deal with, but when hundreds of people descend on a beauty spot with sound systems it can be a nightmare for residents.
More than 1,200 people attended an illegal event at Bellever Forest, on Dartmoor, last June, with residents claiming human excrement, drug packaging, a sofa and seats were among the detritus left behind.
Devon and Cornwall Police said it had dealt with 75 illegal raves across the region since 2009, with the most recent during the Easter weekend.
"All you hear is 'boom, boom' from the bass which is disturbing for us and for guests," said Garry Hayman, manager of Bellever Youth Hostel.
Since 2009 Mr Hayman has heard about three raves a year from his property - the closest being about 2,000ft (600m) away.
"The [hostel] guests are sympathetic that it's beyond our control but it does affect their stay and in future, perhaps they will reconsider coming here.
"It's [illegal raves] on your mind as the bank holiday is approaching... we'll be on the lookout for abnormal amounts of traffic on the moor."
Joss Hibbs, who owns Powdermills Pottery close to the forest, said raves had brought human excrement, drug packaging and litter "to her doorstep", something she had tried to protect her children from by moving to Dartmoor.
During the rave last June, she said the police enforced road blocks on the surrounding routes which meant her passing trade for three days, which was an "important financial weekend", was "non-existent".
"For those few days I was down by about 85% on takings."
She said that on Dartmoor there had been a history of regular raves and she would support stopping the trend.
But she added: "I don't want to become more of a victim to the policing, more than I am a victim to the rave."
Steve Horn, owner of Lydgate House Hotel, in Postbridge, who echoed the views of other businesses, said: "We could hear the noise constantly during the Jubilee weekend.
"Owning a hotel I was concerned what our guests would think, but fortunately no-one complained although a few guests did mention the noise."
'Soft target'
Rave organiser, Rich, who spoke to BBC News at the time, said: "It's out the way, it's nice, it's in the countryside, fresh air.
"Clubs are too expensive and basically it's just good to get away. I've had a lot of fun."
One of the Jubilee ravers, Jordan Lord, said at the time that officers arrived as the party was "winding down" when the majority of people had left the site.
Ch Insp Brendan Brookshaw said: "We may have been a soft target in the past... we are no longer going to be."
He said the force had listened to the rural community who had criticised them for "getting to the site [Bellever] too late and with too little resources".
"In under an hour my expectation is that we can get to a rave site and start to de-rig it to prevent it building up with 1,000 plus people and going on for two or three days.
'Lots of cops'
Ch Insp Brookshaw said automatic number-plate recognition would be used to "pick up" people who have organised raves in the past.
He also said officers had been checking websites used to set up raves, and that there would be "lots and lots of cops out there looking for people and vehicles" who might be attending a rave.
He added that if officers were called to a rave site they would "turn off the tap" and seize equipment and put signs on the motorway and main roads to warn people that it had been stopped.
"Raves will be dealt with robustly with organisers facing prosecution for both criminal and civil offences," he said.
A spokeswoman from the Forestry Commission, which owns Bellever Forest and other sites which have been used for raves, said: "The main issues have been extensive amounts of rubbish and vandalism left by the revellers, causing unnecessary costs to be incurred in clearing up after the event."
During the Easter weekend, police stopped an illegal rave at Beaworthy, near Okehampton, which up to 500 people attended.
Police officers on the ground and the force helicopter were used to stop the rave.
Kirsty Egginton, who attended the event and spoke to BBC News at the time, said: "We come here and we have a really nice time... every time we leave we collect all of our litter."
Rob Steemson, head ranger of Dartmoor National Park Authority, said: "We are working with the police and asking local people to report anything suspicious.
"We would rather it was a false alarm than a rave starting up."