Aggro Santos trial: Rape 'against morals and pride'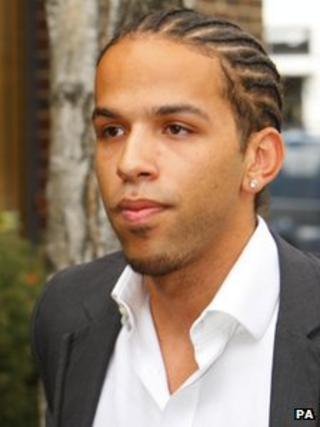 The rapper and former I'm A Celebrity contestant Aggro Santos told police that rape was against his "morals and pride", a court heard.
Mr Santos, 24, is accused of raping a woman in a hotel room after a show in Yeovil, Somerset, in September 2010.
He is also accused of raping a 16-year-old girl in Chichester, West Sussex, in 2011, Chichester Crown Court heard.
Mr Santos of Bickersteth Road in Tooting, south-west London, denies two counts of rape.
His friend Tyrelle Ritchie, 22, of Vauxhall Street in Lambeth, south-east London, denies one count of oral rape.
The Brazilian-born rapper, who is standing trial under his real name Yuri Santos, is accused of raping a then 16-year-old girl after the University of Chichester summer ball.
He is also accused of raping a woman in her 20s in his hotel room in Yeovil on 25 September, 2010 after performing a gig.
The court heard that when Mr Santos was questioned by detectives over the alleged rape in Chichester, he said: "I would never have done that.
"It goes against everything I have been brought up with, my morals and my pride.
"It's a really, really big card to pull out on someone."
'All kicked off'
In police interview, Mr Santos said the girl had consented to sex with him after coming back to his hotel with a group following the ball.
The group spent part of the night drinking in the hotel bar, talking and listening to music - including some of Mr Santos' new songs, the court heard.
As the night wore on, Mr Santos said he had protected, consensual sex with the girl in his hotel room.
The girl's sister later came into the room, followed some time later by Mr Santos' friend and co-defendant Mr Ritchie, the court heard.
Mr Ritchie and the sister started flirting, and Mr Santos told the girl that they should go into the bathroom to give the pair some privacy, jurors were told.
When the pair left the room, Santos and the girl came out of the bathroom and had protected sex for a second time, the court heard.
Mr Santos told police that Mr Ritchie had walked back into the room.
The girl is then alleged to have performed a sex act on Mr Ritchie for "20 or 30 seconds" before saying she wanted to stop, the court heard.
Mr Ritchie then left the room, leaving Mr Santos to carry on having sex with the girl, police were told.
The jury was told that later, after the girl had left the room to fetch a camera, her sister came in and "it all kicked off" as she claimed her sister had been raped.
The trial continues.