Harwich Mayflower Project to build life-size replica
1 May 2013

From the section

England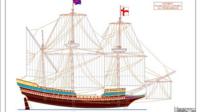 A charity aims to put Harwich back at the heart of the Pilgrim Fathers story by building a £2.5m replica of the ship which sailed to America in 1620.
The Mayflower left Plymouth in Devon on 6 September, but the Harwich Mayflower Project said the ship's Essex origins were just as important.
It hopes the replica will be ready by 2020 for a 400th anniversary US voyage.
It will follow the route of the 102 passengers who left England in search of greater religious freedom.
The Harwich charity said the ship only travelled from Rotherhithe in east London to the Devon port to take extra passengers from another vessel.
'Story hijacked'
The Speedwell had been due to travel to America, but was believed to have been sabotaged by its crew.
John Acton, trustee of the project, said: "Plymouth, I feel, has hijacked the story for 400 years.
"Everyone thinks it came from Plymouth, but it was a Harwich boat and the skipper and crew came from Harwich and that's got to be recognised.
"We want the Americans to come here and see where it came from."
Mr Acton said there was no firm proof The Mayflower was built in Harwich, but said most of the English merchant fleet and Royal Navy built at that time came from the East Anglian coast.
The Mayflower is believed to have been built in 1590. It was based in Harwich until 1610 and her master Christopher Jones's house has been preserved there.
'No conflict'
He moved the vessel to London for trading reasons and captained her for the Pilgrim Fathers voyage.
Andy March, the project's managing director, said: "There's no conflict with Plymouth - it's primarily to offer training, jobs and opportunities in Harwich, which is possibly the best example of a town that could benefit from post-industrial development.
"We're trying to build on an iconic vessel which has international status and reverse some of the the economic trends here.
"We are very confident it will happen, but it will take another year to finance and build the ship and we've just got US charity status, which should speed it up."
Some of the oak being prepared for construction of the replica has come from Cornwall.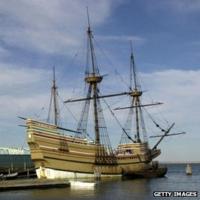 'Living history'
Plymouth is also planning celebrations for the 400th anniversary.
Peter Smith, the council's deputy leader, said the anniversary celebrations there would be a "massive international event".
"Our links are crystal clear and how other cities prove theirs is entirely their shout and we wish them luck," he said.
"We want to create a really special party atmosphere, so to all those other cities wanting to join in, Plymouth says 'the more the merrier'."
The original Mayflower is believed to have been broken up when she returned to England.
A replica of the vessel already exists in Plymouth, Massachusetts, where the Pilgrim Fathers set up the Plymouth plantation colony.