Hillsborough inquests to be held in north-west England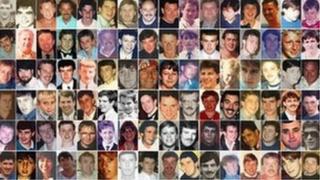 Fresh inquests into the deaths of the 96 Hillsborough victims will be held in the North West of England, a coroner has confirmed.
Lord Justice Goldring said a search had now started "to locate suitable premises" in the region.
New inquests were ordered in December when the High Court quashed the original accidental death verdicts.
Last week, Lord Justice Goldring confirmed the inquests will take place in early 2014.
Barry Devonside, from the Hillsborough Justice Campaign (HJC), said: "It was the best decision we could have hoped for [as] the witnesses are in the north."
The Liverpool fans died following a crush during the 1989 FA Cup semi-final match at Hillsborough stadium, in Sheffield.
'Clear directions'
Lawyers for the Hillsborough Family Support Group (HFSG) had argued for the inquests to be held in London, while those for the smaller HJC asked for it to take place in the North West, but outside Liverpool or Manchester.
Margaret Aspinall, HFSG chairwoman, said: "To be honest, I personally don't mind where it is held.
"I'm quite happy wherever it is held as long as everything goes accordingly and we get the right verdicts on the death certificates."
Within the ruling, the coroner said he had "no doubt that a location can be found in the North West without the risk of actual or perceived prejudice".
Lord Justice Goldring said: "If there is a jury, those of us with experience of them know perfectly well that with proper and clear directions they soon put behind them anything they may have read or thought and concentrate on the evidence before them".
He added: "The hearing is bound, it seems to me, to take several months. If it is held in London, those who wish to follow it in person will be away from home and living in hotels for a very long time.
"It is plainly not a practicable solution for someone to commute from Liverpool or the North West on a daily basis."