Security services check South West Water and supplies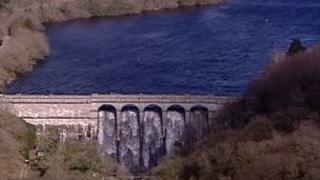 An officer from the security services has visited South West Water (SWW) to examine how supplies are being kept safe from terrorist attack, the BBC has learnt.
The recent visit was not in response to any specific threat but to check on security in place around water supplies, the BBC was told.
Mains water has been assessed as a potential terrorist target.
SWW said it did not comment on security matters as a matter of policy.
'Potentially vulnerable'
Over recent years, a series of extra precautions have been put in place at water supplies around the country.
They include new surveillance systems at reservoirs and pumping plants, and sophisticated locks, in an attempt to prevent any efforts to contaminate Britain's drinking water.
A party of officers from MI5 and other security services has previously visited a number of SWW works to see how supplies were being protected and to offer advice about improvements to security.
BBC South West home affairs correspondent Simon Hall said: "In recent years, terrorists have demonstrated an ability to continually change their tactics in planning their attacks.
"The water supplies in the UK have increasingly been seen as a potentially vulnerable target by MI5.
"There are thousands of reservoirs, pumping stations and treatment plants, and keeping them secure presents a major challenge.
"This visit by a security services officer is part of the continuing attempt to stay one step ahead of the ever-changing terrorist threat."
Bill Tupman, a security analyst from the University of Exeter, added it was not just the actual water itself at risk but also a possible cyber-terrorism threat.
"The whole control system is integrated and the danger is that something gets in and meddles with it," he said.
South West Water covers Devon and Cornwall, plus parts of Dorset and Somerset.
The Home Office has yet to comment.