Jury considers verdict in Brighton footballers' trial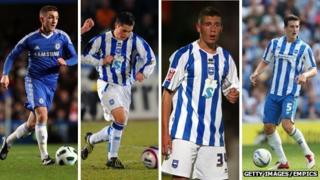 A jury has retired to consider its verdict in the trial of four Brighton footballers accused of sexual assault.
Anton Rodgers, 20, George Barker, 21, Lewis Dunk, 21, and former team-mate Steve Cook, 22, deny sexually assaulting a 19-year-old in July 2011.
Mr Rodgers, Mr Barker and Mr Cook also deny voyeurism. Mr Dunk was cleared of that charge at an earlier trial.
The Old Bailey has heard how photos were taken of the unconscious woman in a hotel room in Brighton.
Mr Cook, who was on Brighton and Hove Albion's books at the time of the alleged assault, signed for Bournemouth last year.