Norfolk and Suffolk PCC deny budget publication lapses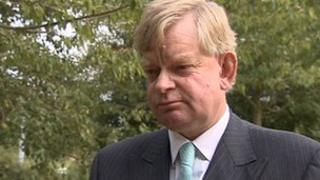 Police and Crime Commissioners in Norfolk and Suffolk have denied failing to publish details of their budgets online following criticism by a Home Affairs committee.
Norfolk's Stephen Bett and Tim Passmore in Suffolk were criticised by MPs.
Commissioners are required by law to reveal certain financial data but only 10 of 41 elected officials in England and Wales had complied fully.
Both commissioners said they had complied with requirements.
Matthew Grove for Humberside, Sir Clive Loader for Leicestershire and Winston Roddick for North Wales were also criticised.
Mr Passmore said: "All the detail of my budget was published on my website on 15 April so I have no idea why the report claims it was not.
"The website clearly presents the total budget of £1.7m and how it is broken down as employee costs.
"I am very disappointed with the Home Affairs Committee report on Police and Crime Commissioners," he added.
Mr Bett also said the information on his £1.28m budget had been published and he had had many Freedom of Information requests about it and no-one had come back for clarification.
"All the information is freely available on the Norfolk PCC website and has been for some time.
"We have a clearly stated publications scheme which sets out the data that is available and how to make Freedom of Information requests.
"I took the budget to the Police and Crime Panel for scrutiny on 31 January and all reports relating to this were clearly published on the website.
"Likewise we have provided information about my salary and expenses and that of my deputy, along with the overall office budget of £1.28m. We are not hiding anything."
National register call
He also criticised the way the government set up the police and crime commissioner system.
"No-one had thought through beforehand how it would be set up in the different counties.
"We have had to make it up as we went along. It's been a complete shambles."
The committee has called for stronger scrutiny of police and crime commissioners (PCCs).
"A national register is vital for local accountability," Keith Vaz MP, committee chairman, said. "We need to guard against maverick decision-making.
"Some commissioners have already failed to meet the deadline for publishing information online, but there is no one in government keeping track."
The report said the committee did not accept Home Secretary Theresa May's view that a national register was unnecessary.
The committee has suggested that a national body such as Her Majesty's Inspectorate of Constabulary (HMIC) could be responsible for compiling and publishing a register of PCC interests.