Goring property conmen sentenced for £519,000 fraud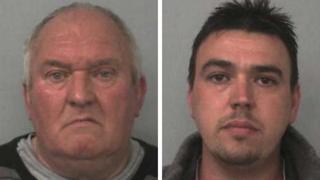 Two men have been convicted of conning an elderly man out of £519,000 during nearly two decades of intimidation.
Stephen Green and Clive Smith were found guilty of defrauding Leslie Drain from Oxfordshire between 1992 and 2011.
Oxford Crown Court heard the pair intimidated Dr Drain into paying them for housework and becoming a joint investor in a farm in the New Forest.
Green, of Southampton, was sentenced to six years and Smith, of Berkshire, got 18 months suspended for two years.
The farm was only a small plot of land with a mobile home on the site, but the pair claimed to have put in a bridge, fencing and carried out other work.
Dr Drain, a retired physicist who was aged in his 80s and made an MBE for voluntary services to the environment in 2008, died last year before the case was brought to court.
The court heard he continued to pay large sums of money to Green as the intimidation continued.
'Despicable individuals'
Following a complaint to Crimestoppers of potential fraud, Oxfordshire Trading Standards and Thames Valley Police began a joint investigation.
Police arrested Green and searched his property in Southampton in March 2011.
Green, 63, of Newbridge, Cadnam, was convicted of two counts of fraud and Smith one.
Smith, 36, of Eliot Close, Thatcham, was also ordered to carry out 200 hours of community service and pay £23,233 in compensation to Dr Drain's estate.
Ch Insp Mark Johns said: "These were two despicable individuals who preyed on an elderly man, conning him out of excessive amounts of money.
"Sadly, Dr Drain is no longer alive to witness their convictions, but he was very relieved that he had the last year of his life without being pestered by these individuals."