Tony de Bruyn: Cotswold Airport Bronco crash pilot returns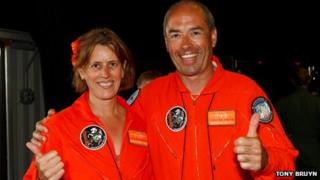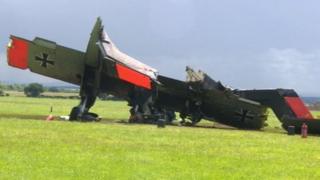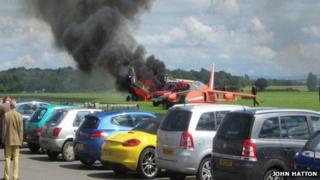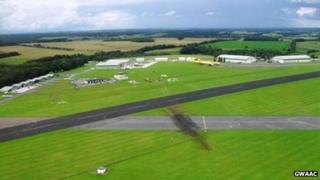 A Belgian pilot who crash-landed his display plane at Cotswold Airport last year is to return to the site to thank people for their care and support.
Tony de Bruyn, who flies with the OV-10B Bronco Demo Team, suffered serious burns and back injuries when his plane came down during a practice flight.
The display team had been in the UK as part of the Royal International Air Tattoo at nearby RAF Fairford.
An AAIB investigation is ongoing into the cause of the crash.
Mr de Bruyn said the visit was being organised so he could personally thank everyone involved in the rescue efforts after the incident last July.
"The exemplary efforts and professionalism of all individuals and services involved ensured my successful survival," he said.
"The support of my wife Edith, family, the medical staff at Frenchay and Queen Astrid hospital Burns centres, Bronco Demo Team and all other friends has been just fantastic and aided largely in a very speedy recovery indeed."
Fan weekend
On 14 June the demo team plans to visit and give charitable donations to Frenchay Hospital and Great Western Air Ambulance in Bristol, and Wiltshire Air Ambulance in Devizes.
A UK Bronco Fan Weekend will then take place at Cotswold Airport on 15-16 June.
Mr de Bruyn said his rehabilitation was progressing well but it was a slow process.
"Thanks to the extremely fast response of the rescue teams involved, I am hoping to recover in the long term with minimal discomforts," he added.
"I am hoping to regain a Class I medical certificate by the end of this year and start flying again by 2014."