Sex abuse choirmaster Michael Brewer stripped of OBE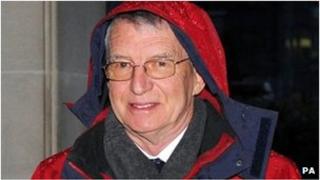 A former music school choirmaster who was jailed for sexually abusing a pupil has been stripped of his OBE status.
Michael Brewer, who was music director at Chetham's School of Music in Manchester, groomed Frances Andrade from the age of 14 at the school in the 1970s and 1980s.
Ms Andrade, 48, of Guildford, Surrey, killed herself during the trial.
The Queen has ordered his OBE, awarded in 1994, be cancelled, official Crown newspaper the London Gazette reported.
Brewer, 68, of Swarthmore Road in Selly Oak, Birmingham, was convicted of five counts of indecently assaulting Ms Andrade and sentenced to six years in jail at Manchester Crown Court in March.
His ex-wife Hilary Brewer, also 68, was jailed for 21 months for indecently assaulting Mrs Andrade.
The statement in the London Gazette read: "The Queen has directed that the appointment of Michael Curtis Brewer to be an Officer of the Civil Division of the Most Excellent Order of the British Empire, dated 31 December 1994, shall be cancelled and annulled and that his name shall be erased from the Register of the said Order."