Thomas Swannell jailed for Gary Vigors murder in Majorca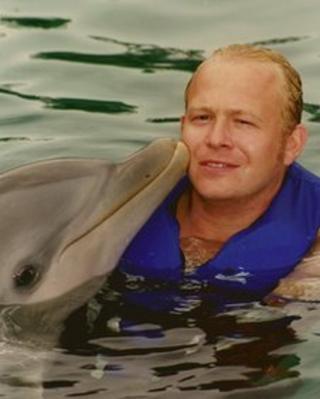 A man from Northampton has been jailed after admitting the murder of a father of one who was stabbed in the neck while on holiday in Majorca.
Gary Vigors, 42, of Essex, was killed outside a bar in Magaluf in March 2011.
Thomas Swannell, 46, was due to stand trial at Palma de Mallorca court on Monday.
He appeared at the same court on Wednesday, admitted murder and was jailed for six years, minus the two years he has spent remanded in custody.
The scaffolding company owner, of Wellingborough Road, was in Majorca with a group of 60 supporters and players of Finedon Dolben Cricket Club.
Mr Vigors, an IT manager with Lloyds Banking Group, had been asked to go to Majorca for the weekend to provide some younger company for his boss on his father's birthday break.
He was in Majorca just a matter of hours when he was attacked on his first night out with the group in Magaluf.
'Disappointed with sentence'
Swannell stabbed him in the neck with a broken bottle, severing his jugular vein.
He died at the scene, with Swannell arrested soon after.
The court took into account the mitigating factor that Swannell was drunk at the time.
His sentence was also determined on the basis that he paid the court 160,000 euros in compensation to the Vigors family.
Mr Vigors' partner and young daughter are to receive 143,000 euros, and 17,000 euros will go to his parents, David and Pat Vigors.
David Vigors, a retired constable with Essex Police, said they were unable to get to Majorca to see Swannell sentenced as his change of plea came unexpectedly.
"We're disappointed it's ended like it has," he told the BBC.
"But we are very relieved we didn't have to sit through a trial. That would have been very difficult for us both."
Mr Vigors had lived on the same street as his parents in Dovercourt, Harwich, and was part of a close family, his father said.
Speaking to the BBC in February, David Vigors said: "He was the perfect son; he came round here every day. We were very proud of him.
"He wasn't a bully or a thug or a nasty person at all."