Norfolk D-Day veteran's ashes taken to Normandy for interment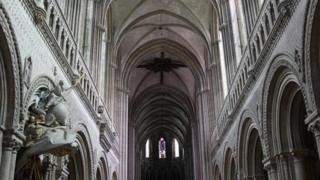 World War II veterans who took part in the D-Day landings are returning to Normandy with the hope of interring the ashes of a comrade who died last year.
The veterans, from Norfolk and Suffolk, are taking with them an urn containing the remains of Ernest Mears of the Pioneer Corps.
They hope to make him a focal point for next year's 70th anniversary by having his ashes interred in Bayeux Cathedral.
Their trip has been made possible with money from the Big Lottery Fund.
The Heroes Return 2 programme gives WWII veterans a chance to get funding to return to the places where they served.
Barnardo's boy
Mr Mears, who had no family, was given a military funeral by the Royal Norfolk Veterans' Association.
He played a vital role in the Allied Invasion on 6 June 1944 by landing with the Pioneer Corps to dig trenches and build shelters under fire.
Norfolk veteran Jack Woods, who served with the 9th Battalion Royal Tank Regiment and is one of the veterans making the trip to France, said Mr Mears was typical of the young men who went "simply to do their duty".
He said he hoped Mr Mears' ashes could be buried in Bayeux Cathedral next year.
"At the moment his ashes will be interred in a Commonwealth War Grave cemetery as close as possible to the beach he landed on," said Mr Woods.
"We think there should be a representative of all the young men who went over there from all over our land.
"There should be one ordinary guy similar to the unknown warrior to represent them and we think our Barnardo's boy Ernie Mears is the type of guy who would fit the bill."
Alan King from Eye in Suffolk, who is also making the journey, said of the lottery funding programme: "I'm very grateful they're allowing us to go back again.
"It was my generation that died there you see."
Since 2009 the Heroes Return programme has awarded more than £25m to more than 52,000 WWII veterans, widows, spouses and carers across the country for journeys in the UK, France, Germany, the Middle East, Far East and beyond.