Nationwide search for £44m premium bond winners begins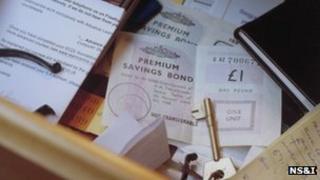 A total of £44m-worth of premium bonds prizes are unclaimed in the UK, including one that is 56 years old and some worth £100,000.
National Savings & Investments (NS&I) wants to trace more than 898,000 winners who have not yet come forward to collect their prizes.
The oldest unclaimed winnings belong to a man from South Yorkshire who won the £25 prize in 1957.
Two £100,000 prizes belong to female bond holders in London and Manchester.
There is no deadline for claims, so winners can claim their prize at any time from the Treasury-backed provider.
Other top unclaimed prizes include £50,000, won by a woman from Kent, in November 2007, £25,000 won by a man from London, in October 1991, and a man from the West Midlands who won £25,000 in March 2003.
Jill Waters, NS&I's operations manager, said: "It is likely that the winner of the £100,000 prize [from London] is unaware or she has forgotten that she has Premium Bonds - the lucky winner has just £25 invested.
"Prizes often become unclaimed as a result of people moving house, or forgetting that bonds have been bought for them as a child, or executors are unaware the Bonds are held when someone dies."
Over one third of the UK population collectively has more than £45 million invested in Premium Bonds across the UK.
Every eligible bond is entered into a monthly prize draw and investors forgo interest in order to have the chance to win tax-free prizes.
Harold Macmillan announced the launch of Premium Bonds in the 1956 Budget in a bid to encourage savings and reduce inflation.
The draw is made by Ernie - Electronic Random Number Indicator Equipment - in a secure location only accessible by a handful of NS&I employees.
The computer takes two-and-a-half hours to make the random monthly draw.