Iain Bell Cumbria crash death: Family pays tribute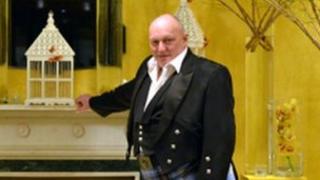 The family of a construction manager killed in a crash with a lorry has paid tribute to their "gentle giant".
Iain Bell, 40, from Haltwhistle, Northumberland, died on Monday following the collision on the A595 near Wigton, Cumbria.
Mr Bell worked at the Sellafield nuclear plant and was a "wonderful husband, son, brother, uncle, dad and granddad," his family said.
Cumbria Police said it was still investigating the circumstances.
Mr Bell was the driver of a car which was in collision with a lorry.
'Gentle Giant'
Cumbria Police said the 52-year-old driver of the lorry, from Hartlepool, suffered from minor injuries.
An investigation is ongoing and no arrests have been made.
In a statement, Mr Bell's family said: "[Iain] loved to tinker on his old wrecks, which he called his pride and joy, along with his three grandsons.
"[He] attended Cockermouth High School and later went on to become an electrical engineer undertaking his training at Sellafield Nuclear Power Plant.
"To most he was known as 'Big Iain' or the 'Gentle Giant', he was well liked and respected at Sellafield, where he worked as a construction manager and previously at Chapple Cross.
"Iain was a well-known regular at the steam rally's where he will be sadly missed, he was also a regular feature in the blog by 'cumbrianfoodie' where he was known as 'The Laird'."
His wife Linda added: "On Monday part of me died with him and life will never be the same again for me, our family and anyone else who knew him."
The family said they wanted to take the opportunity to "thank everyone for their kind thoughts and wishes at this extremely sad time".
Police are also asking for any witnesses or people with information to come forward.