Plymouth student's baton used in Boston bombings relay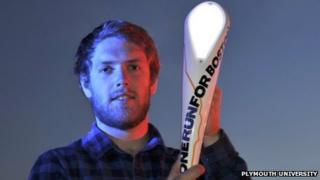 A baton designed by a Plymouth University student will be used in a relay across North America to raise money for those affected by the Boston Marathon bombings.
The baton, designed by Jon Parlby from Saltash in Cornwall, will be carried from Los Angeles to Boston.
Thousands of people are expected to carry it during the three-week event.
In April, the bombings left three people dead and more than 260 others injured.
Mr Parlby, 25, said: "I was approached by the event organisers, who had seen one of my previous designs, and I then spent three days developing it into something lightweight and easy for the runners to carry."
Symbol of hope
"It is fantastic to be involved in such an event, as it's a great cause that has support right across the world," added Mr Parlby who is a 3D Product Design student.
A spokesman from Plymouth University said it would be the only baton used in the relay.
One Run for Boston will raise money for The One Fund Boston, which was set up by the city's Mayor following the bombings on 15 April.
Danny Bent, one of the founders of the event, said: "Jon designed the baton to look like a lily, a symbol of sympathy, passion and hope.
"It is perfect for One Run for Boston, showing the solidarity among runners while we remember those most affected by the blast.
"We hope to then hand it to the Boston Marathon organisers so it continues to act as a symbol of national and international support."
It will travel through the states of California, Arizona, New Mexico, Texas, Oklahoma, Missouri, Illinois, Indiana, Ohio, Pennsylvania, New Jersey, New York, Connecticut and Massachusetts.
The event starts in Los Angeles on Friday.