Family man Reece Elliott 'not typical loner troll'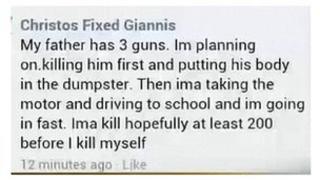 Internet troll Reece Elliott, who has been jailed for making death threats on Facebook, does not match the profile of a typical offender, according to prosecutors.
Elliott, from South Shields. threatened to kill 200 people in a message on a Facebook page in memory of a girl from the US who died in a car crash.
He pleaded guilty in April to one count of making a threat to kill and eight counts of sending grossly offensive messages and was jailed for two years and four months at Newcastle Crown Court on Tuesday.
But a spokesman for the CPS in the North East said he did not match the profile of the typical internet "troll", who was often socially isolated.
"He has family and is a parent," he said. "The posts caused a lot of distress to parents and as a parent you would expect him to have empathy and understanding, this was not the case.
"He described himself as a part-time troll. Trolls post comments in the hope of getting a reaction.
"Their motivation is to distress people and they thrive on getting a reaction and hurting people.
"It is hard to get into the mindset of these people."
'Got terrified'
Elliott struck in February when he posted on the Facebook page set up after the death of Tennessee teenager Caitlin Tally last October.
His message said his father had three guns and he planned to kill him, dump his body in his car and drive to the school where he would kill at least 200 more people.
He posted the abuse under the false name, Christos Fixed Gianni.
The messages were seen and pupils at Caitlin's school, Warren County High in McMinnville, Tennessee, were so disturbed about 3,000 of them stayed off school the next day.
"Before his arrest Elliott saw publicity for the case on television within a day of the posts and got terrified," the CPS spokesman said.
"He spoke to a solicitor and arranged to hand himself in at South Shields police station."
Police officers were just about to raid Elliott's address and arrest him when they were contacted by the local solicitor, who said the troll wanted to handed himself in.
On 8 February, at just after 14:00 GMT, he surrendered at the police station, two days after posting the threats.
A CPS spokesman said: "Elliott handed himself in after seeing the reaction to his comments in the international media.
"He claimed to be a 'part-time troll' but did not believe that his comments would be taken seriously."
'You have been chosen'
He said although Elliott threatened hundreds he was prosecuted because of the strength of a message he posted to one woman directly.
It said: "You have been chosen tomorrow at school to receive 1 of my bullets. The doctors will have to unscrew the bullet from your skull bitch."
The CPS said: "It is this particular comment that is the basis for the specimen charge.
"While he has freely admitted all of the comments he made, a stronger legal case could be made for threats against an individual rather than those made against a large number of unnamed targets.
"This message gives a flavour of the severity of the threatening language used during Elliott's trolling."
Despite the fact this was very much a 21st Century cyber crime, Elliott has been prosecuted under a 150-year-old law - section 16 of the Offences Against the Person Act 1861.