Chasing cows: Walking with bored bovines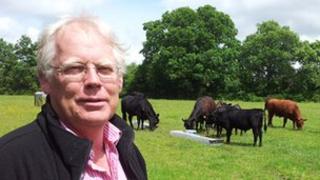 With the summer holiday season upon us, many people will head for the great outdoors to enjoy some of the thousands of public footpaths that criss-cross the countryside.
But more walkers means more people coming into contact with livestock, and not always with happy results.
Each year, the Health and Safety Executive (HSE) receives dozens of reports of people being injured by cattle, sometimes killed.
Whenever accidents occur, there is always discussion about the risk to dog walkers, because cows can perceive dogs as a threat.
Only last month Mike Porter, a former lecturer at Edinburgh University, was killed by cattle while walking dogs with his brother in Wiltshire.
Walkers are also warned about getting between suckling cows and their calves, but warnings rarely mention the problem of people being pursued by "teenage" cattle.
'Frisky teenagers'
Alan Marlow, footpaths officer for Hampshire Ramblers, said he has occasionally had to shout and wave to halt a marauding herd.
He said: "Essentially, the teenagers can be the most frisky and often there's quite a lot of them in the field.
"You can understand them getting interested - it can't be that exciting, standing in a field full of grass - but, if there's a lot of them and they start to run, it can become a problem."
Farmer Chris Cook, who looks after 200 cows at Wintershill Farm, Hampshire, said: "It's very rare you will get an aggressive cow. They will come towards you for a number of reasons - they're thinking, 'Are you going to feed me, put me in another field?'.
"It can be like [playing] grandmother's footsteps - you will find you have got 20 animals behind you but, if you turn around, they stop and, if you speed up, they speed up."
Following a number of high-profile deaths in 2012, Mr Cook, whose farm is crossed by the Pilgrim's Way, had fencing installed along the footpath to prevent a similar tragedy.
Duty of care
He said: "We are lucky, we could fence it out. If you are a hill farmer or you have got lots of footpaths that cut across your fields, it's more difficult.
"We have lost about 2m along the edge of the field but now, because the cows don't graze there, we have to mow it, but I cannot bear the thought of anybody getting injured or killed."
Landowners have a legal duty of care to "lawful visitors" and farmers can, in some circumstances, face prosecution if their animals injure someone - certain breeds of bull are also banned from fields with public access.
The HSE advises displaying signs, warning when there is a bull, or cows with calves, at large but some suspect they are used to discourage walkers.
Mr Marlow said: "The majority of farmers are quite responsible but some will leave a notice up whether or not there is a bull in the field.
"It would make me much more likely to report a farmer for trying to prevent me from using a right of way."
Ramblers tells walkers to move around herds quickly and quietly, keeping dogs on leads.
Anyone chased by cattle should let their dogs go, but never run themselves, because the cows will chase the dog.
Both Ramblers and the National Farmers Union urge all walkers to follow the Countryside Code.