EDL protest policing 'the price of democracy'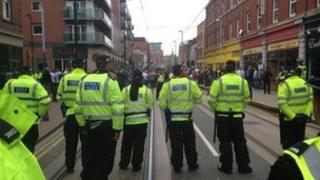 In my job it's fairly common to be asked to move on by the police when I turn up with a camera crew to cover an event.
Receiving that familiar request from officers of South Yorkshire, Northumbria, Lancashire, Merseyside and North Wales constabularies all in the space of one afternoon is not so common.
That was a measure of the huge police operation on the streets of Sheffield when the far-right street protest movement English Defence League swaggered into the city led by its national leader Tommy Robinson.
Reinforcements had been drafted in from far afield and the local South Yorkshire force cancelled all leave.
'We will return'
Robinson had complained that the previous week anti-racist groups in Sheffield had prevented 80 of his supporters from laying a wreath to commemorate the tragic death of Fusilier Lee Rigby.
He immediately vowed the EDL would return to the city in far greater numbers to ensure that they could carry out what he called their "patriotic duty".
I counted about 400 EDL supporters who actually turned up for the return visit. That was about half the number many far-right social media contributors had predicted.
Even so, it was a substantial number for a relatively tiny organisation like the EDL, but it was not the reason why the wreath-laying finally went ahead.
That was down to the 1,000 police officers on duty who cleared a path to the war memorial and created an "isolation zone" separating the EDL from at least three times as many chanting anti-racist supporters.
Price of democracy
I caught up with Tommy Robinson as the EDL marched away from the brief ceremony and recorded an interview for that evening's Look North TV news bulletins for Yorkshire.
The Luton-based leader of the movement claimed his supporters had proved they had an unfair reputation for violence by successfully holding what had turned out to be a peaceful and dignified ceremony.
He shrugged off what will certainly be a bill running into hundreds of thousands of pounds for policing the event. That, he said, is "the price of democracy".
Within minutes of that interview police were drawing batons and calling up mounted colleagues as around 200 EDL supporters broke away from the main group being escorted towards the station.
It took another three hours of disciplined containment, at one stage involving police in riot gear, before the EDL finally dispersed. Police later confirmed that there had been five arrests.
As the police operation was in full swing, a totally different protest against the presence of the EDL was taking in the city's sun-drenched Peace Gardens.
A specially organised multi-cultural music festival was being enjoyed by local families. It was hard to believe that this was just a few streets away.