South Gloucestershire and Stroud College: 94 jobs at risk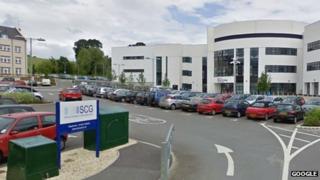 Nearly 100 people are at risk of losing their jobs at South Gloucestershire and Stroud College (SGS).
Staff have been told 82 positions are "at risk of redundancy" after a review of services due to a £4m cut in government funding.
Thirteen senior and administrative posts - five in Stroud and eight in Bristol - were already under threat.
The college was formed with the merger of Stroud College and Filton College near Bristol last year.
'Efficiency of scale'
A spokesman said the action was necessary due to a proposed reduction in funding from the government of about £4m between 2013 and 2015.
"Up to 94 staff will be affected by this action although it is expected that some staff will be redeployed," he said.
Principal Kevin Hamblin said: "We need to cut our costs in proportion to the funding we receive.
"This reduction in funding was anticipated and was a key driver for the merger of Filton College and Stroud College, which created SGS.
"A larger college allows us to rationalise costs and provide the efficiency of scale which will mean we can maintain our range of full-time programmes and learner support functions so students will not be affected by these actions."
A 45-day consultation into the redundancies has begun.