David Cameron defends children's heart surgery review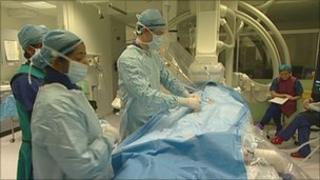 David Cameron has defended the decision to re-examine the future of children's heart surgery in England after it was raised in the House of Commons.
Hampshire MP Mike Thornton called for assurances over the future of Southampton General Hospital, which had been saved in last year's NHS review.
An independent review ruled decisions were based on flawed analysis.
Leeds General Infirmary, Glenfield Hospital, Leicester and London's Royal Brompton Hospital were set for closure.
'No choice'
During Prime Minister's Questions, Mr Thornton, Liberal Democrat MP for Eastleigh, said: "The excellent children's heart unit at Southampton General is the best in the country outside of London, yet the recent decision by the secretary of state means more uncertainty for patients and their families in my Eastleigh constituency.
"What assurances can the prime minister give over the future of this unit?"
The prime minister accepted the move had created "frustration" for parents, but said he did not believe the health secretary "really had any choice" but to rethink the plans.
"Most important of all is to make sure we get the decision right," Mr Cameron said.
Repairing the hearts of children born with congenital defects is one of the most complex procedures in the NHS.
About 3,700 such operations take place each year.