PIB spills 'unlikely' to affect South West seabird colonies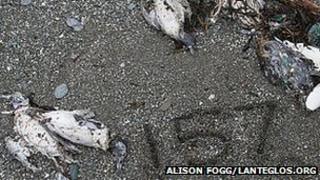 Seabird colonies in the south-west of England are "unlikely" to be "majorly affected" by a sticky substance which killed thousands of birds earlier in the year, conservationists say.
More than 4,000 birds were affected by polyisobutene (PIB) spills in the spring.
More than 250 dead birds were studied by the British Trust for Ornithology. It found half were non-breeding.
The location and timing of the spills had also reduced the impact, it added.
Almost 20 species of bird were washed up on the coasts of Devon, Cornwall and Dorset from 10 April covered in the substance.
A previous spill in January affected at least 500 birds along the coast.
Mark Grantham, from the trust, said guillemots - the species most affected - were collected from beaches across the region.
"We identified the species and their approximate age by looking at plumage feathers and development of the skull and reproductive organs."
Mr Grantham said about half were juveniles or sub-adults, which were birds that had almost reached sexual maturity.
"The other half were adults and of breeding age, but might not have been breeding locally.
"It was a worry to start with, as we were unsure what species were affected and their ages and breeding status. But the results are what we expected."
He said, despite the spill affecting thousands of birds, because the guillemot population was "so large", the species should recover in the long-term.
"If it happened later in the breeding season, or right next to a breeding site, it would be different," he added.
Guillemot numbers at the largest breeding colony on the English Channel coast, at Berry Head in south Devon, are "holding-up", according to countryside officer Noel Hughes.
"It was a late start this year, but there are between 1,100 and 1,200 individual birds, which is normal."
Mr Grantham said most of the adult birds affected and found dead would be from southerly populations from the south-west of England, Wales and southern Ireland.
However, some birds, which had been ringed, were from Scotland so were probably "passing through".
It is currently legal to discharge PIB in small quantities, based on certain conditions as set out by the international MARPOL Convention (International Convention for the Prevention of Pollution from Ships).
But a group of charities, including local wildlife trusts, the Marine Conservation Society and the RSPCA, wants this to be stopped.
The Maritime and Coastguard Agency (MCA) said it was still investigating the exact cause of the incident in the spring and attempting to find the vessel responsible.
It said it had been collecting data of the ships that passed through the area during a specific time frame, and had been looking through detailed cargo manifests.
"If the MCA can locate any ship that was responsible for an illegal discharge, then we will take steps to prosecute," it added.