Trevor Francis's son cleared of burglary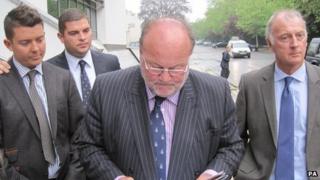 Former England star Trevor Francis's son has been unanimously cleared of stealing designer goods from ex-Aston Villa footballer Lee Hendrie's home.
James Francis, 26, had denied burgling a cottage at Mr Hendrie's £1.6m mansion in Rowington, Warwickshire, in 2011.
Jurors at Warwick Crown Court took little more than an hour to clear him.
Afterwards, Mr Francis's family said he endured "two years of hell" because the Crown Prosecution Service had withheld vital information about the case.
Mr Francis was found not guilty of a single count of burglary.
'Bare-faced' lies
Mr Hendrie and his wife Emma had alleged six souvenir football shirts, a Vertu mobile phone, sunglasses, ladies' footwear, a set of golf clubs, an earring and a designer bag were taken from a cottage, between 1 July and 2 August 2011.
Mr Francis, from Solihull, told the court on Wednesday he visited Mr Hendrie's home in May 2011 to assess the cost of cleaning the property.
The trial was told Mr Hendrie's wife, Emma, submitted an insurance claim form following the burglary, which Mr Francis's counsel described as containing "bare-faced" lies.
The form, in which it was falsely stated Mr Hendrie had no previous convictions, was not given to defence lawyers until part-way through this week's four-day trial.
In a statement read out by defence solicitor Jim Crocker after the verdict, the Francis family questioned why the case had been brought before a jury.
Addressing the media on the steps of the court, Mr Crocker said Mr Francis and his family were "obviously delighted and relieved" at the verdict.
'Riddled with inaccuracies'
Accusing the CPS of withholding information about the insurance claim from the defence, Mr Crocker added: "That documentation showed incontrovertibly that false information had been submitted to the Halifax in support of an insurance claim.
"The defence team had specifically requested these documents from the Crown Prosecution Service, but they had declined to produce them by asserting that they were not relevant.
"These documents were only produced on the second day of the trial.
"This resulted in two years of hell and worry for James and his family."
Giving evidence on Wednesday, James Francis said he may have left two thumb-prints at the cottage while preparing a quote for cleaning the mansion.
During his closing speech to the jury, defence barrister Michael Hubbard QC told the jury the prosecution case was "riddled with inaccuracies".
In his closing submissions to the jury, prosecutor Trevor Meegan urged jurors to concentrate on the "incontrovertible" fingerprint evidence, which was found on a door panel and a piece of cardboard at the cottage.