Sussex and Surrey severe delays after M-way crash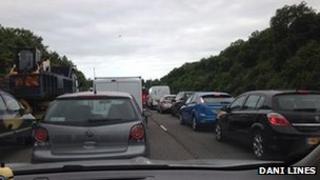 A crash on the M23 led to severe delays on the M25 and around Gatwick Airport during the morning rush hour.
Surrey Police said a people carrier left the road between junctions 8 and 9 on the southbound M23, leaving one person with serious injuries.
Delays on the M23 and M25 in Sussex and Surrey continued throughout the rush hour with the southbound M23 closed at one point, BBC travel news said.
The road partially reopened after 10:00 BST with traffic easing by 11:00 BST.
In a statement on its website, Gatwick Airport said: "Due to traffic congestion on the M23 and M25, we would advise all passengers to leave plenty of time before travelling to the airport and to contact their airlines for flight information."
Commuter Dani Lines, who works at Gatwick Airport, said she left home in south London at 07:00, and arrived at work at 10:45.
Surrey Police said the crash happened at about 06:00 with Surrey fire service, paramedics and the air ambulance called to the scene.
The force said the Highways Agency was called to help with traffic management and to clear debris from the carriageway.
Anyone who saw the crash is urged to contact Surrey Police.