John Anslow prison van escape: Woman charged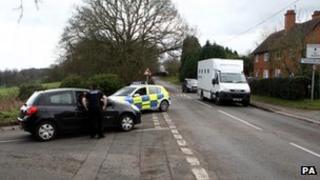 A 12th person to be charged over an inmate's escape from a prison van on the way to court has been remanded in custody by Birmingham magistrates.
John Anslow, who was on remand accused of murdering a man in Staffordshire in 2010, was freed by masked men near HMP Hewell in Worcestershire last year.
Samantha Glover, 27, of Parkes Lane, Tipton, is accused of conspiring to assist an escape from lawful custody.
She is due to appear at Birmingham Crown Court on Friday.
Eleven men charged with the same offence are currently awaiting trial over the prison van escape, which happened near Bromsgrove on 23 January 2012 as Mr Anslow, then aged 31, was being transported to Stafford Crown Court.
Mr Anslow, from Tipton, was arrested in March of this year in the Alancak area of northern Cyprus.
He was deported by the Turkish Cypriot authorities and charged with conspiracy to escape from lawful custody on his arrival in the UK.
Mr Anslow is also accused of murdering Richard Deakin in Staffordshire in 2010. He is yet to be tried over the killing.