Chancellor's spending review: High Speed to election?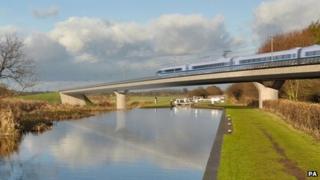 Perhaps it should be no surprise that after the chancellor announced the government's spending review, the legislation to introduce high speed rail to the East Midlands was introduced in the Commons.
George Osborne's big message was further cuts to most government departments but boosting the cash spent on big infrastructure projects.
Such schemes don't come much bigger than HS2, although the revised increase in its projected construction costs won't have been so welcome for Mr Osborne.
The chancellor's got his sights on the next general election in 2015, so revealing an additional £100bn for capital spending makes for positive headlines.
Over the next few days, we'll get the details of which projects in the East Midlands have been favoured.
'Political trap'
Expect a range of rail and road improvements to be announced. Also new school buildings and investment in science.
With Nottingham now one of Britain's leading so-called "incubators" for science research and development, the city should have some good news today.
But set against that is a further squeeze on local government.
Our councils already face a cut of a third in their budgets. A further 10% squeeze at the Department for Communities and Local Government will mean some tough choices for services and jobs.
The chancellor also offered to extend the freeze on future council tax increases for a further two years. But that will be seized upon by Labour as a "political trap".
Cash strapped local authorities needing to increase council tax by more than 2% next year will face demands from the Communities Secretary Eric Pickles. He will want a local referendum first to approve such a rise.
Economic clout
One surprise from the chancellor was his pledge to scrap the current funding formula for schools and local education authorities. For the shire counties of the East Midlands this will be welcomed.
The existing formula allocates education funding on a range of measures that include a deprivation index and the number of children receiving free school meals. County council leaders from Leicestershire, in particular, lobbied for years that the formula put their school children at a funding disadvantage.
Another financial carrot from the chancellor was a £2bn annual pot for the region's Local Enterprise Partnerships, the business-led organisations set up by the coalition to boost economic growth.
The LEPS will have to bid for a share of the cash and in the East Midlands they have focused on improving Wi-Fi and broadband connections to encourage business development in rural areas.
They will embrace the chancellor's extra cash.
But will it make that much difference to boost business growth? It's still a long way short of the much bigger pot Lord Heseltine recommended to give proper economic clout for the English regions.