The Islanders complete GB Row 2013 race in record time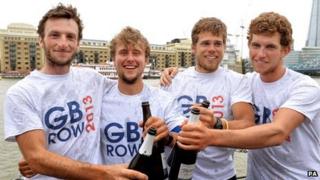 Four rowers have broken the record for the fastest time circumnavigating the coast of Great Britain.
They took 26 days to row the 2,000-mile course and win the GB Row 2013 race.
Josh Taylor, 24, and Alan Morgan 23, both from Mersea Island, Essex, James Plumley, 24, from Guernsey, and Gavin Sheehan, 25, from Cork, in the Irish Republic, broke the record by 12 hours.
They will share £100,000 for setting a record time, plus £15,000 for winning the race.
The crew, known as the Islanders, crossed the finish line at London's Tower Bridge just before 17:30 BST on Thursday.
They completed the course in 26 days, nine hours and nine minutes and were greeted by friends and family as they finally set foot on dry land.
'We're like family'
Mr Taylor, the skipper, said he believed teamwork was the key to their success.
"We are four very competitive guys and we're very close, we're like a family now," he said.
"We motivated each other the whole way round."
Mr Sheehan said the crew realised on Tuesday they would break the record.
"We didn't know if it was going to happen until two days ago... and all of a sudden you get a sniff of the finish line and it all changes. It's just incredible," he said.
Six other teams started the race on 1 June but four were forced to retire, mainly due to mechanical problems caused by rough seas.
The only other remaining team is the two-man Savoir Faire, which is not expected to finish for at least another week.
The Islanders carried on, despite a snapped oar and also turned down medical assistance after Mr Sheehan hurt his back in huge waves in the Bristol Channel.
Will de Laszlo, race president and skipper of the crew that set the previous record in 2005, said: "It was an epic effort.
"Massive congratulations to the record-breaking team."