Pitch perfect: When are England's buskers unwelcome?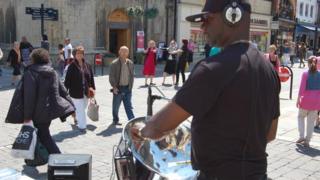 Buskers are street entertainers who perform to earn and yearn to perform. But are they always a welcome distraction?
From voices and violins to keyboards and quintets, where there are shoppers there are buskers. A showcase for talented types eager for payment and promotion.
"The idea is to create an atmosphere and experience," said professional soprano and country-wide busker Rebecca Newman, from York.
But that experience is not always a good one.
In the past few years, complaints about musicians being too loud, too poor, too competitive or even too aggressive have had the authorities scratching their heads about how to police the activity.
The issues have also sent sour notes ringing through busking circles as musicians turn on each other over ignored guidelines.
Earlier this week, classical guitarist Gary Millhouse caused outrage after verbally abusing a fellow busker in the city of Bath for being too loud.
The incident was filmed and uploaded to the internet where it has since gone viral and it is now being investigated by police.
A remorseful Mr Millhouse said: "It was unacceptable and I'm paying the price now.
"It's taken me nearly 20 years to get respect and recognition and it's all gone. I've got nothing now."
'Driving shopkeepers mad'
The big issue here is one of noise, according to Jeremy Broun who runs the Bath Buskers website and group.
He said that many hours had been spent around the table with city police, the council, church and other stakeholders, trying to write a guide for buskers.
"It has literally been ripped up in front of us," he said. "Nobody has kept to the protocol.
"The council actually conceded and allowed us to use amplifiers and it was abused. People with huge PA systems on the streets of Bath were driving shopkeepers mad.
"I'm sorry to say this, and I may sound as though I'm a traitor to other buskers, but there's an unbelievably selfish attitude."
Bath and North East Somerset Council does not license buskers, but it shares in an agreed Code Of Practice which includes rules about noise levels and performance duration.
Similar arguments are being played out with councils the length and breadth of the country.
Ears in the East had heard enough last July when the town centre manager of Woodbridge, Suffolk, said shop workers were tired of "badly" played renditions from performers with a "limited repertoire".
Griping in Gloucester in 2011 also led to a public consultation and full review of city council guidelines following complaints about "noisy" buskers.
The authority eventually ruled that buskers were welcome but, for example, only battery-powered amplification could be used and the sound must not travel over 50m (164ft).
Since then the council has reported no further complaints from businesses and said buskers continued to return time after time.
'Quite pleasurable'
The same joy is not found in Woodbridge though, where it only takes the sound from two buskers to fill the entire length of the town's high street.
"It's something we're learning to live with," said Chris Harrold, a greengrocer and member of the Choose Woodbridge group.
"On a good day we get a nice busker and it's quite pleasurable, but on another day we get Christmas tunes being played repeatedly, even throughout the summer months."
In direct contrast, what is the level of complaints against the hundreds of buskers using the London Underground as a stage?
"We probably average one to three complaints per year and haven't received any during 2013 to date", said a spokesperson for Transport for London.
Busking licences for the Tube were first made available 10 years ago and at the last count, some 278 licences were in use.
The spokesperson added: "Based on the number of recent enquiries to 'hire buskers' for parties, weddings and general events, the scheme and buskers are as popular as ever."
'No snootiness'
Rebecca Newman, who travels the country to sing popular classics, cites Durham, Canterbury and Gloucester among her favourite locations but also rates Rotherham and Doncaster.
"You can be in urban, working class places that love some of the old hymns and classics like Ave Maria. There's no snootiness about it. They've never heard that stuff live and it blows them away," she said.
"In seven years, and about 500 performances, I could probably count the number of complaints I have had on one hand."
However she has had plenty of cause to complain herself.
On one occasion she called the police over someone declaring their love for her, and she has also experienced being stalked and followed and hassled by teenagers.
"You have to have skin as thick as an armadillo," she added.
Birmingham-based steel pan player The Mighty Jamma is another professional musician who uses busking to promote his own CDs.
He, like Miss Newman, was unwilling to reveal how much money he makes but said there were days when he had earned nothing.
"It's very important to keep the music at a level that is not irritating," he said, admitting he gets maybe one complaint a week about volume.
"Most times you get that it's probably a shopkeeper that has had a bad day," he joked.
But 15 metres away from a recent pitch on The Cross in Gloucester city centre, it's the historic St Michaels Tower that has closed its doors to the sound of Jamma's steel pan and amplified backing track.
John Larking, a Gloucester Civic Trust volunteer at the tower, said: "We have no objection to buskers, in fact we quite like them, but it's the volume that is the problem.
"Sometimes when we have talks here in the tower we have to go out and ask them to turn it down. Some are very good but some are awkward about it.
"On a hot day like today, we have to keep the doors shut."
Whatever the view, the future of busking is sure to continue with both harmony and discord as its most natural accompaniment.