MP Peter Bone's bill targets human sex trafficking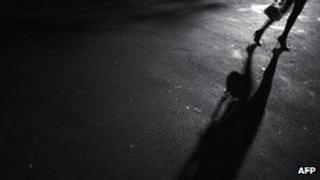 You could be forgiven for thinking that Peter Bone is only interested in pursuing a controversial agenda.
In recent weeks he has led the charge for a vote on the EU referendum and tried and failed to have the August Bank Holiday renamed "Margaret Thatcher Day".
But there is another cause very dear to Mr Bone's heart which anyone would struggle to disagree with: helping the victims of human trafficking.
It all started shortly after he became an MP.
"I received a letter from an English prostitute saying she was concerned about the way some foreign nationals were being treated in Northampton," he tells us.
"It was a subject I knew nothing about but the more I found out about it, the more horrified I became."
He set up an all-party parliamentary group on the subject with former MP Anthony Steenon and now he is piloting a bill through parliament which would provide greater support for those who find themselves victims of this modern form of slavery.
'Repeatedly raped'
"Imagine that a 25-year-old woman from a small village in Moldova has been offered an escape from poverty via a job in the UK working as a waitress," he told MPs.
"But after arriving in London it becomes clear that there never was a legitimate job opportunity. Her "contact" confiscates her passport and locks her in a room where she is beaten and repeatedly raped, and then sold into slavery as a prostitute."
The problem is so great that the government has already doubled to £3m the amount it spends every year on safe houses where women can recover and prepare for life back in the real world.
"I find it almost impossible to believe that we can stand by and allow such a scandalous situation to continue for one moment longer," he said.
His bill will also put a duty on the authorities to trace and confiscate traffickers' assets, a requirement for large businesses to report on measures that they are taking to eliminate "modern slavery" from their supply chains and a requirement for front-line public servants to receive targeted training relating to human trafficking.
Abolition of slavery
Mr Bone said the government was taking a much greater interest in the issue and was "moving in the right direction".
"The British government must be prepared to stand up to the individuals who perpetrate such evil crimes. They must take the lead on this most crucial of issues, as they did almost 200 years ago (with the abolition of slavery)."
And he quoted the words of William Wilberforce who led that campaign: "You may choose to look the other way but you can never again say that you did not know."
Cynics will point out that this is a Ten-Minute Rule Bill and will stand hardly any chance of becoming law.
At a recent Prime Minister's Questions, David Cameron praised Peter Bone's work, saying: "We are looking at legislative options, and I will be chairing a committee across government to look at what more can be done."
It took William Wilberforce the best part of 40 years to get slavery abolished. Let's hope Mr Bone will achieve his aim far sooner.