Yorkshire water demand surges 100m litres a day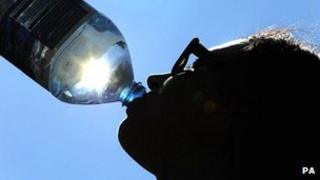 Demand for water in Yorkshire has surged by 100 million litres a day in the past week as temperatures soared, water company bosses have said.
Yorkshire Water said daily demand was currently running at 1.4 billion litres compared to normal levels of 1.3 billion litres.
It urged people to "use water wisely" as the heatwave is set to continue.
However, water levels in its reservoirs were "relatively healthy for the time of year" at 73% full, it said.
A Yorkshire Water spokesman said that since the drought of 1995 it had spent £300m on a network of underground pipes to move water around the region as demand fluctuated.
"With the recent hot weather that has been a more intense operation as demand has increased," he said.
"There is a massive operation to make sure we are managing and balancing our water stocks.
"That is what we are doing, but there is also a call to action to our customers to use water wisely, especially when warm weather puts extra stresses and strains on resources."
Simple measures could save large amounts of water, Yorkshire Water said.
Turning the tap off when brushing teeth could save six litres of water per person, or 17,500 litres a year for the average family.
Using a watering can instead of a sprinkler could save up to 1,000 litres of water an hour.