Olympic writer Frank Cottrell Boyce 'not afraid to fail'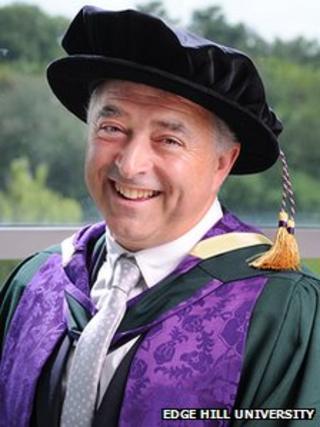 The writer of the London 2012 Olympics opening ceremony has said it was a success because those involved were not "afraid of failure".
Frank Cottrell Boyce said despite criticism in the run-up to the event, "we weren't afraid because of past experiences".
The Liverpool writer was speaking as he picked up an honorary doctorate from Edge Hill University in Ormskirk.
He said the degree was "not the kind of award you would expect to get".
The 53-year-old, who wrote for Coronation Street and Brookside before moving into film, worked with director Danny Boyle on the London opening ceremony.
He told students at the Lancashire university that "in the year leading up to the ceremony, we must have received the worst press ever, with comments saying it would be 'dreadful' and a 'global embarrassment'".
"We weren't afraid because of past experiences - my best advice is never to be afraid of failure," he said.
"Just look at the way things turned out."
He said the experience had given him the belief that it was important people were not "scared to ask ridiculous questions".
"When putting together the ceremony, we never thought the Queen would be willing to jump out of a helicopter, but she was well up for it."
He added that those going into the creative industries should "remember that friendship and loyalty count for a lot".
"Just remember, we can never know what's coming up in the future but if you're happy, good and decent, that will help you progress in life," he said.