National Memorial Arboretum service to remember police officers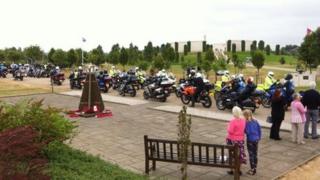 Hundreds of people gathered for a service of remembrance for police officers who have died on duty.
A roll of honour was read for 10 officers who have died in the past year, including PCs Fiona Bone and Nicola Hughes, killed by Dale Cregan.
The annual Care of Police Survivors (COPS) service was held at the National Memorial Arboretum in Alrewas, Staffordshire.
Police representatives and relatives of those being remembered attended.
This year's service marks the 10th anniversary of the formation of the COPS charity, which helps the families of police officers who have lost their lives in the line of duty.
President Sue Brace said: "It has been a difficult year for the police service, and with the deaths of [PCs] Fiona Bone and Nicola Hughes it has really highlighted to the community the job our police officers do every day.
"It's extremely fitting that Sir Peter Fahy, chief constable of Greater Manchester Police, has agreed to deliver the closing address at this year's service."
Cregan killed Greater Manchester PCs Fiona Bone and Nicola Hughes in a gun and grenade attack as they answered a bogus 999 call in September.