Princess of Wales's Royal Regiment Folkestone march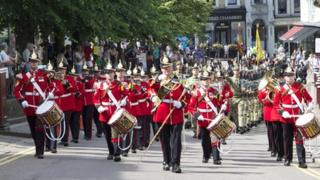 Soldiers from the Princess of Wales's Royal Regiment (PWRR) have marched through Folkestone.
The Kent seaside town is one of seven across the south east of England to welcome the troops from the regiment in a series of parades.
The regiment started its tour in Godalming on 13 July and will go on to visit West Sussex and Hampshire.
The PQRR is the most decorated of British Army regiments, with 57 Victoria Crosses.
Brigadier Richard Dennis, colonel of the regiment, said: "We are an integral part of these communities and these parades are symbolic both of our gratitude for the tremendous support we receive and our ongoing commitment to this long-standing relationship."
Troops from the regiment, also known as the Tigers, will visit Arundel and Chichester in Sussex, Barnet in London, and Winchester in Hampshire.
Toni Brenchley, one of the parade's organisers, said: "The townspeople of Folkestone were really delighted that they came, particularly as the last time they marched here was in 1991."
About 190 soldiers marched through Folkestone to cheers and applause from crowds gathered on the town's streets.
There are three PWRR battalions, two regular and one territorial.
The regiment recruits its soldiers and many of its officers from Kent, Sussex, Surrey, London, and Hampshire.
It is also the only infantry regiment that recruits from the Channel Islands.