West Wittering sandbank rescue trio taken to hospital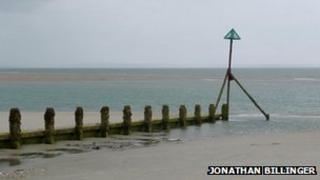 Three men were taken to hospital after they became trapped on a sandbank and overwhelmed by the incoming tide in West Sussex.
Coastguards said the men tried to swim back to shore at West Wittering on Sunday but got into difficulties and had to be rescued by lifeguards.
Two of the men had to be revived and were taken by helicopter to the Queen Alexandra Hospital in Portsmouth.
The other man was taken by ambulance to St Richard's hospital in Chichester.
Matt West, of the Solent Maritime Rescue Coordination Centre, said: "If you are heading out for a swim, check the sea conditions and remember that even though the sea may look calm on the surface, there is the danger of strong currents underneath.
"Always check tide times as well so that you can avoid being cut off by the incoming tide.
"If you see someone in difficulty, you should call 999 immediately and ask for the Coastguard."
The men are believed to have walked to the sandbank at low tide with a bigger group of people.