Man dials 999 after eating out-of-date ready meal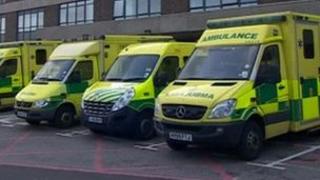 A man who ate an out-of-date ready meal dialled 999 for help, an ambulance trust has said.
Other "inappropriate" calls during the heatwave at the weekend, included a man who burnt himself on a microwave meal and a woman who cut her foot, South Central Ambulance Service said.
A man who super-glued his finger to his ear also rang for an ambulance.
The ambulance service said it responded to 4,412 calls, compared to 3,830 on the same weekend last year.
Of the emergency calls made between 19 and 21 July, 1,192 were "life-threatening", compared to 962 the previous year.
The previous two weekends also saw increases on 2012 call levels, the service added.
'Vital resources'
A spokesman said: "The continuing heatwave has seen the number of 999 calls to South Central Ambulance Service NHS Foundation Trust increase still further... on account of increasing demand on the service.
"Calling 999 for an ambulance when you don't need one may result in vital resources being unavailable to respond to patients who genuinely need them - patients suffering life-threatening injury or illness.
"What's more, arriving by ambulance at a hospital's emergency department doesn't guarantee that you'll be seen ahead of other patients who don't."
The woman who had cut her foot was sat in a car when the ambulance arrived. The crew dressed her cut and told her to visit the walk-in centre if it got worse.
South Central Ambulance Service covers Berkshire, Buckinghamshire, Hampshire and Oxfordshire.