Barbara Clough, widow of football manager Brian Clough, dies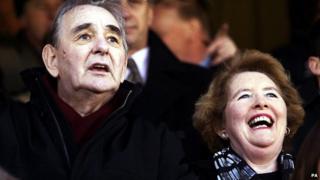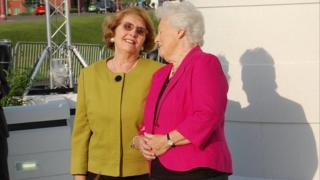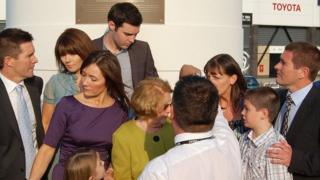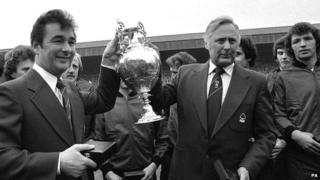 Barbara Clough, widow of football manager Brian Clough and described as "the rock behind him", has died.
Clough steered Derby out of the old Division Two and won the First Division in 1972 before back-to-back European Cup wins at Nottingham Forest in 1979 and 1980. He died in 2004, aged 69.
Their son Nigel, who played for his father at Forest, now manages Derby.
Former Rams and England defender Roy McFarland said Barbara, 75, provided the support for Clough's success.
"Barbara was the woman behind the man," he said.
'She's the stalwart'
"I imagine at times Brian must have been rather difficult to live with and Barbara was the one he came home to. She sorted the kids out, sorted the home out, sorted the family out and everything else.
"I think she was probably the rock behind him that gave him the time and confidence to carry on and do what he had to do."
When Nigel Clough took up the reins as manager at Burton Albion, his parents were regulars in the crowd at Eton Park, McFarland said.
He added: "She's the stalwart, the one who kept everything together."
In a statement released through Derby County, Mrs Clough's family thanked staff at the Royal Derby Hospital, particularly those at the Nightingale MacMillan Unit.
It said: "Barbara Clough died at Royal Derby Hospital on Saturday evening after a short illness. She will be greatly missed by everyone."
Mrs Clough's death comes just two months after that of Lilian Taylor - widow of Clough's right hand man Peter Taylor.
The pair backed a successful campaign for a bronze statue of their husbands lifting the First Division trophy, unveiled outside Pride Park in 2010.
Mrs Clough had also unveiled a statue of her husband in Nottingham two years earlier.
Clough's success at Derby County was followed by a brief spell at Leeds United, later immortalised in a book The Damned United and a film of the same name.
It was boycotted by the family after Mrs Clough complained at the depiction of her husband in the novel by David Peace.
Mrs Clough leaves sons Nigel and Simon and daughter Elizabeth.