Century-old jars of fruit and veg donated to Beamish Museum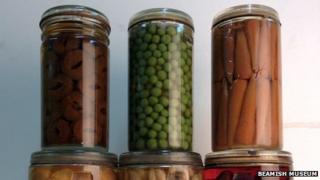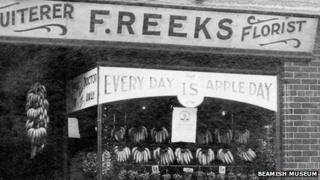 Jars of fruit and vegetables preserved for more than 100 years have been donated to a County Durham Museum.
The collection of 15 jars, including carrots, peas, asparagus and cherries, belonged to greengrocer Fred Reeks.
Bottled in 1910, the jars were later put on display in his shop in Parkgate, Darlington, which he ran until he retired at the age of 78.
Now, the 103-year-old jars have been donated to the Beamish Museum by his family to go on display in its town.
Mr Reeks' grand-daughter Hilary Hopkins, said: "We are thrilled that people are going to be able to see what we think are beautiful examples - to think those peas are more than 100 years old and still have their colour."
The vegetables were preserved in water, and the fruit in a mixture of sugar and water and kept in airtight jars.
About 42 jars were displayed in four tiers in Mr Reek's shop.
Mr Reeks died in 1967, aged 80.