Lover jailed for Diana Lee murder and mutilation in Cheshire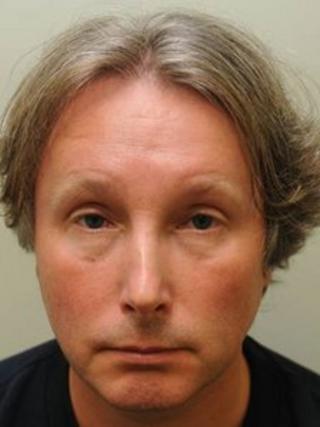 A conman who murdered his lover and mutilated her body to cover his tracks has been sentenced to life, with a minimum prison term of 34 years.
Married David Ryan, 48, of Byrom Street, Altrincham, killed Diana Lee, 54, before setting fire to her house in Cranage, Cheshire, last August.
Bankrupt Ryan cheated the cattery owner out of £60,000 to cover his "mountain of debts", Chester Crown Court heard.
Ms Lee's body was found face-down in a wheelbarrow full of wood.
After bludgeoning the owner of Parklands Cattery to death, Ryan mutilated her body and set four fires around the house in an attempt to destroy DNA evidence, the jury heard.
The judge Mr Justice Richard Henriques told Ryan: "You mutilated Diana Lee's body in a shocking and very disturbing way."
'Spectacular fraud'
The court heard Ryan befriended Ms Lee but did not tell her he was married and tricked her into giving him cash by asking her to invest in a "bogus business".
The judge said Ryan decided to kill Ms Lee when she started asking questions about what he had done with her money.
He said: "You suffer from the toxic combination of being work-shy and grossly extravagant. Your extravagance knew no bounds.
"You killed Diana Lee to prevent your spectacular fraud upon her coming to light."
The judge rejected the defence claim that the killing was spontaneous, but said he accepted "if you could have strung her along indefinitely then you would have done so".
He said Ryan believed he had "planned the perfect murder" but a lack of oxygen in the garage prevented the fire from spreading and destroying all the evidence.
'Horror film'
The jury was told Ryan tried to "frame" Ms Lee's lodger Andrew Leese by dipping his antique German dagger in Ms Lee's blood and planting her underwear in his room.
The judge said the murder was premeditated and said Ryan had taken the life of a "much admired woman" who was described as "kind and sensitive, hard-working, happy and positive".
Cheshire Police Assistant Chief Constable Ruth Purdie said the attack on Ms Lee was "brutal and sadistic".
In a statement read in court, Ms Lee's brother Colin Sherwin described his sister as "very trusting" and a "lovely human being".
He said her "horrific" murder had "completely shattered" the family.
"This is an unbelievable chain of events that belongs in a horror film, not in our lives," he said.