Biffa apology over Tandridge waste service disruption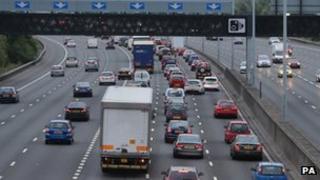 A waste contractor has apologised over disrupted rubbish collections in part of Surrey which it said were "out of its control".
Biffa collects refuse for Tandridge council but disruption to services has been blamed on M25 roadworks and delays at a Sita waste plant.
The Highways Agency said it regretted any inconvenience caused by motorway roadworks.
Sita has not commented on delays at the plant in Sevenoaks.
A statement from Biffa said: "Biffa apologises sincerely to any Tandridge residents who may have experienced difficulties with our recycling and refuse collections service.
"These have been caused by factors beyond the direct control of both Biffa and Tandridge Borough Council.
"Every effort is being made to resolve these problems so that collections can be quickly restored to Biffa's usual high service standards."
This story was amended on 29 July following clarification of who runs Dunbrik waste plant.