Shirley and Lynette Banfield's murder convictions quashed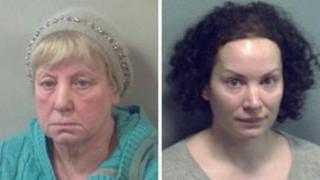 A mother and daughter who were jailed for the murder of their husband and father have had their murder convictions quashed.
Shirley Banfield, 65, and daughter Lynette, 41, were given life sentences in 2012 for the murder of Don Banfield.
Three appeal judges have now concluded that prosecutors had not established the women, from Canterbury, Kent, were both present when Mr Banfield died.
They said there were "alternatives" which could have led to his death.
A lawyer representing Shirley Banfield had told the court how he accepted that the "likelihood" was that "one or other" of the women had murdered Mr Banfield.
But judges said the case demanded "the application of established law".
Mr Banfield, who had worked for betting firm William Hill and lived with Shirley Banfield in Harrow, north west London, disappeared in May 2001 aged 63.
'Tenable alternatives'
His body had never been found, the judges heard.
Prosecutors said that shortly before his disappearance, he had complained of "assaults" which, they argued, were "indicative" of failed murder attempts by both women.
They said he had also expressed concerns that "they would kill him".
A jury at the Old Bailey found both women guilty and both received life sentences, with a minimum term of 18 years for Shirley Banfield and 16 years for her daughter, in April last year.
The Court of Appeal judges said there were "tenable alternatives" which could have led to his death.
Judge Lady Justice Rafferty, who heard the appeal with Mr Justice Simon and Mrs Justice Carr, said the prosecution case was that between 11 and 16 May 2001 the two women both murdered Mr Banfield.
But she said the case was "speculative and circumstantial".
"This was an alleged joint enterprise murder with no body, no suggested mechanism of death, no identified day when the murder was said to have occurred, no time and no place and no suggestion of what happened to the body," she said.
"The appeal turns on whether there was evidence at the close of the case for the Crown from which the jury could infer that the two defendants must have killed together and not one in the absence of the other.
"The Crown's ... difficulty was its inability to prove that the two women acted in concert to bring about Mr Banfield's death...
"What it could not do was prove a joint enterprise to be present when he was murdered either as killer or as participant in a joint enterprise."