Holly-Ann Schofield speedboat appeal raises £5K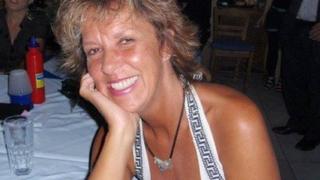 The family of a woman fighting for her life after being hit by a speedboat off a Greek island has raised £5,000 towards the cost of bringing her home.
Holly-Ann Schofield, originally from Hove, moved to Rhodes 18 months ago and was seriously injured while swimming on Thursday.
Sister Joanna Schofield said the family wanted her back in the UK.
Ms Schofield is in a medically-induced coma in Athens. The family believes it could cost £30,000 for her to travel.
Joanna said medical treatment had been covered by her E111 European Health Insurance Card (EHIC) but she did not have insurance to cover travel home.
'Withdrawing drug'
The family have praised the "absolutely brilliant" E111 system, which meant Ms Schofield could receive emergency surgery.
Speaking of her sister's condition, Joanna added: "She's now got an artery problem in her arm.
"It's swollen up because of the result of the stent that they put in her heart.
"Her spleen is still ruptured, so they're trying to see if that's going to stabilise because they don't really want to remove that.
"And now, over the next few days, they're withdrawing the drug that's been keeping her under sedation."
Travel expert Simon Calder said he did not know of a travel insurance policy which offered cover in the event of an ex-pat needing to return to the UK in a medical emergency.
"If you're living abroad it's very different from being on holiday," he added.
The Schofield family have set up a Facebook page to raise money.