River Thames locks closed during repairs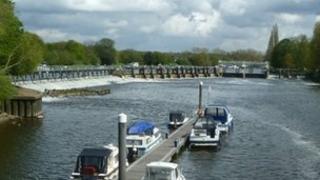 Navigation locks on the River Thames are to close for up to five months while gates and weirs are replaced in a £3m programme of works.
The Environment Agency (EA) said 11 sites in Oxfordshire, Berkshire and Surrey would undergo repairs and structural works throughout winter.
The locks from Teddington to Grafton, near Kelmscott, will be closed at different times while work is underway.
The majority of closures will begin in early November.
EA waterways engineer Paul Power said: "The Environment Agency has more than 2,000 assets along the River Thames, which we maintain and keep to good and safe working order - helping thousands of people navigate this great river with peace of mind."
In Surrey, Teddington Barge Lock will be closed from 30 September until 28 February.
Shepperton Lock and Teddington Skiff Lock will be closed from 4 November, as will Blakes Lock in Berkshire and six locks in Oxfordshire - Grafton, Rushey, Osney, Iffley, Culham and Whitchurch, where the road bridge downstream will be rebuilt.
Sandford and Abingdon locks will be closed from 6 January until 14 March.
Teddington Launch Lock will remain open during the closure of the skiff and barge locks.
Full details of the closures are available on the Environment Agency website.