Heinz 'streamlining' puts 250 jobs at risk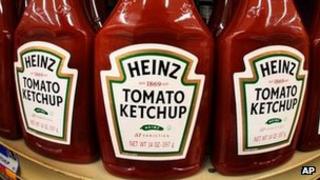 Almost 250 jobs could be cut at Heinz's sites across England, the food manufacturer has warned.
A spokesman said the firm had proposed a new "streamlined structure" which would see the loss of 248 office jobs.
The move follows a takeover by multinational conglomerate Berkshire Hathaway and private equity firm 3G in February.
Heinz has around 2,600 employees at sites in Hayes, Wigan, Kendal, Telford, Westwick and Worcester.
Workers at the company's site in Dundalk, Ireland, may also be affected under the plan.
'Accelerated growth'
The spokesman said the proposal would be "subject to a consultation process with employees and their representatives" and the company would offer "severance benefits" if it went ahead.
"The difficult actions we are proposing to take will, if implemented, better position the company to support and fund our next chapter of growth while further strengthening our world-leading brands," he said.
"Our new organisational structure will simplify, strengthen and leverage the company's global scale, while enabling faster decision-making, increased accountability and accelerated growth."
The manufacturer, famous for its ketchup and baked beans, was sold to the conglomerate, owned by US billionaire Warren Buffett, and the private equity firm in a deal worth $28bn (£18bn).