Truro 6 Rifles reserves move considered by minister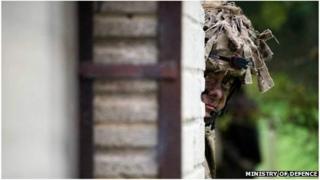 The armed forces minister has said he will "look at" a proposed move of Territorial Army soldiers out of Truro.
Under plans unveiled in July, D Company of 6 Rifles would be based in Plymouth and Barnstaple from 2016.
Armed Forces Minister Mark Francois was replying to Conservative Truro and Falmouth MP Sarah Newton.
Mrs Newton told him the move would cause "real problems" for local people having to travel for many hours to attend training sessions in Plymouth.
Mr Francois said he would "look closely" at the proposed move which will affect 63 of the battalion's reservists in Truro.
'More credible force'
Mrs Newton told the Commons: ''The move from Truro would cause real problems for serving riflemen living in west and central Cornwall and impact on future recruitment from those areas.
"Cornwall, as members will know, is a large and rural county and it can take a considerable time to travel to Plymouth.
"A rifleman taking the train from Falmouth in my constituency to an evening training session in Plymouth would face a four-hour round trip."
Lt Col Neville Holmes, commanding officer of 6 Rifles, said the move was part of an increased integration of TA and full-time soldiers across the Army and recruitment would continue in Truro.
"Clearly it will be a shame if some have to drive a little bit further," he said.
"But I think the opportunity to serve in a new integrated and much more credible reserve force is a bonus."