Martyn Leisure Breaks hotel company goes in administration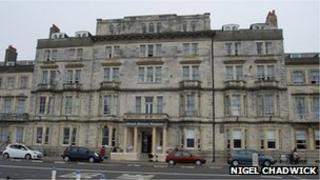 A company that operates four hotels and a leisure resort across Dorset, Surrey and Somerset has gone into administration.
Hollybush Hotels Limited, trading as Martyn Leisure Breaks, runs the Prince Regent and the Russell hotels in Weymouth and the Sherborne Hotel.
It also operates Harrisons Hotel in Shepperton and Sand Bay Leisure Resort in Weston-super-Mare.
It employs 300 staff and administrators were appointed on 11 October.
Joint administrators Zolfo Cooper LLP said it would continue to trade the business while "exploring a range of options including the sale of all or part of the business as a going concern".
It added it intended to honour all bookings and deposits received from customers before they were appointed.
Administrator Nick Cropper said: "We believe the company's hotels are attractive to a range of potential buyers and welcome expressions of interest from third parties to acquire any or all of the hotels and the leisure park."