UK Storm: Essex and Suffolk power cuts continue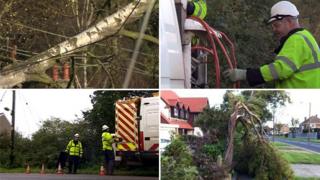 Hundreds of homes in Suffolk and Essex are still without power, five days after a storm swept across Britain.
UK Power Networks says about 80 homes in Essex and just over 350 homes in Suffolk are still affected by Monday's storm winds of up to 129km/h (80mph).
A company spokeswoman said it hoped power would be restored "by the end of the day".
At the height of the storm, about 700,000 households across the East and South East had no power.
Red Cross emergency help centres have been set up to provide hot food and drink for people without electricity.
Matt Rudling, the firm's director of customer services, said: "The high winds damaged the electricity network on a scale we haven't seen since 2002.
"Nearly 700,000 properties had a power cut due to high winds damaging overhead power lines - that's equivalent to the number of households in Manchester, Liverpool and Leeds combined."
The company said 91% of supplies had been restored in the first 24 hours of the storm and they "are now repairing the final damage points".
Mr Rudling added: " I would like to thank everyone who has been patient with us while repairs were progressing."