Engraved Humphrey Bogart glasses and letter up for sale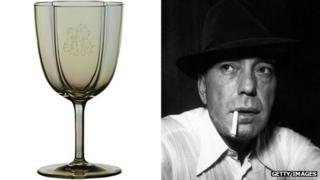 Drinking glasses that were a gift from Hollywood legend Humphrey Bogart are expected to sell for about £3,500.
Bogart gave public relations man Bill Rowland Hill the six small and five large glasses for his help publicising the 1951 film The African Queen.
The items, which are engraved with the initials HB, are accompanied by a letter on 20th Century Fox-headed notepaper from Pinewood signed "Bogie".
He thanks Mr Rowland Hill for his PR work and "all the other little things".
'Thanks a million'
The letter reads: "My Dear Bill. Before I leave for home I want to say, one big 'thank you' from the bottom of my heart for all you have done publicity wise both on the set, and in Africa.
"I wanted to send you some Hootch but on second thoughts I want you to have something to put it in.
"Will you call at that fancy store (Heal's) on Tottenham Court Street and see a guy called Gaylard. Choose yourself a dozen glasses from the suite I have had made.
"Once again sport, thanks a million."
Huston's World War 1 film, The African Queen, tells the story of American Rose Sayer - played by Katherine Hepburn - who escapes a village burned down in German East Africa on a boat owned by rough-and-ready Charlie Allnutt, played by Bogart.
It won Bogart the best actor Oscar in 1952.
The 11 glasses are being sold by antique glass dealers Mark J West, of Redhill, Surrey, at the 23rd Winter Fine Art and Antiques Fair at London Olympia, which starts on Monday and runs until Sunday.
In December, a piano that featured in the classic 1940s film Casablanca, staring Bogart and Ingrid Bergman sold for $600,000 (£370,000) at an auction in New York.