Maidstone jail disorder 'caused by out-of-cells time change'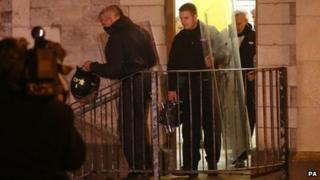 A disturbance at a Kent prison happened after inmates were put on "lockdown" at short notice, the Prison Officers' Association (POA) has said.
Disorder broke out at the Category C Maidstone prison on Saturday, which houses only foreign nationals.
Ralph Valerio, of the POA said, "The offenders were told they would not get out to have association in the afternoon."
The Prison Service said there were no injuries or damage caused.
'Safe and secure'
Mr Valerio said inmates objected to the last-minute change to their routine.
"The prisoners expected certain things to happen," he said.
"Because there was less staff available, that then meant very quickly they were going to be locked down."
The Prison Service said all accommodation at the prison was back in use on Sunday, after the disturbance was dealt with by 18:30 GMT on Saturday.
Mark Reckless, Conservative MP for Rochester and Strood, and a member of the Home Affairs Select Committee, said: "It was a change in when they came out of their cells, rather than the amount of time they came out of their cells.
"When the government had been looking at making savings in the Prison Service by privatising some prisons, the governors and Prison Officers' Association, I understand, came to [the justice secretary] with alternative methods of finding savings, one of which was making time out of the cells into one longer period, rather than more numerous, shorter periods."
A Prison Service spokesman said its jails run a "safe and secure regime" with an appropriate level of staffing.
"We are currently introducing reforms to the prison system that will provide better value for taxpayers while protecting the public and improving the chances of prisoners being rehabilitated," he said.
Until this summer, the Category C prison held a mix of foreign nationals and sex offenders, but now holds only foreign nationals.